GUARANTEED PROTECTION ALL YEAR ROUND
You take pride in your home and so do we! Our residential services are designed to give you the most effective and safest pest control around. We practice advanced Integrated Pest Management (IPM) techniques along with highly effective pest control products including dusts, baits, granules, botanicals and sprays to give you the most advanced, eco-friendly and safe pest control service.
With EcoLiving Pest Solutions, you get peace of mind in protecting your home, family and health from unwanted pests. You're covered against a wide variety of invaders including: ants, spiders, mice, stinging insects, carpenter bees*, bed bugs*, box elder bugs, silverfish, ticks, fleas*, centipedes, pill bugs, pantry pests, beetles, cockroaches, crickets, clover mites ,and much more!
*additional discounted charges apply, which are separate from monthly or quarterly plans.
---
Affordable Plans To Meet Your Needs
We offer many different plans to suit your needs including:
One Time Services: Have an infestation or need some peace of mind without a long term commitment? We've got you covered and we guarantee our one time services for 30 days!
Monthly or Bi-Monthly Services: Want to stay ahead of the game? We'll gladly come each month or every other month and make sure your staying pest free!
Quarterly Services: Our most popular plan! We service your home every 3 months, including free re-services as needed in between your regular scheduled service.
Wall & Void Treatment Service: Our wall and void treatment concentrates on where bugs hide and breed!
---
Our Most Popular Quarterly Plan
If you're tired of sharing your home with unwanted pests our quarterly service plan is just what you need! Our premier service plan consist of four quarterly visits to your home. Each service is unique and designed to protect your home night and day. Our initial service is done on the interior and exterior and each quarterly service afterwards is done to the exterior of your home with interior as needed at no additional charge.
We provide affordable and effective services during each visit.
Careful In-depth Inspection: Regular and thorough inspections at each visit to identify any potential pest problems and identifying the right solution. We discuss your concerns or issues with you and develop a plan of action.
Preventative Measures: We identify pest entry points and address any modifications needed with you to minimize pest entry. We apply a complete, effective barrier on the exterior of your home including treating cracks and crevices insecticide dusts, treating around doors, windows, eaves, foundation and other pest entry points with a long lasting liquid that provides residual protection, granulating around your home to provide an extra barrier around the exterior of your home to provide you with a complete zone of protection. We can also offer interior protection services at no additional charge.
No Long Term Commitments: No one likes a year or two year contract! Our initial contract runs for 6 months and then continues month to month until you cancel (which we certainly hope you don't, but we understand when life happens
FREE Emergency Response: Sometimes a problem develops in between your quarterly service, we'll be sure to be at your home by the end of the next business day at no charge to you.
Q: What do you do at each quarterly service?
A: Initial Service: Regardless of the season your initial service begins with sitting down with you and addressing all concerns and questions you may have. We then perform an in depth, comprehensive inspection of your home inside and out to identify signs of pests, entry points, issues to address, harborage areas, and areas requiring special attention. We then perform a full interior treatment which consists of treating entry points, dusting in cracks and crevices, applying any necessary baits and performing other needed treatments depending on pest issues. We do not just come into your home and spray around the baseboards as it's an outdated and ineffective method and leaves unnecessary materials in your home and can stain baseboards and walls.
Spring Quarterly: As pests emerge for the season our services are designed to prevent their entry into your home. We perform and extensive inspection and exterior service focused on anticipating and preventing pest problems before they happen.
Summer Quarterly: We focus on managing and reducing/eliminating pest populations around your home. Since pest populations grow during the summer time our extensive service will manage these growing populations and keep them from entering your home.
Fall Quarterly: With the cooler weather pests will begin seeking shelter from the elements and your home is the perfect place to winter over for warmth. The focus if this service is blocking entry of these pests and making sure you enjoy a pest free winter.
Winter Quarterly: While some people feel this is an unnecessary service, this is far from true. We focus on rodent prevention and getting your home prepped for spring or any surprise warm days that sometimes can happen during the winter time. We also focus in the interior of your home to make sure any pests that may have made it inside are taken care of.

WALL & VOID TREATMENT SERVICE
Research has shown that bugs love to hide and nest in dark hidden areas and in your walls. Unless those areas are treated your bug problems will never be completely resolved. Our Wall & Void service gives you an edge and treats the areas where bugs hide, live & nest.
---
Q: How does the wall & void treatment work?
A: We inspect for entry points into your walls including plumbing access and removing wall switch plates. We then treat these areas with safe and effective dusts and baits that bugs feed on or get exposed to and die. Because this treatment is very effective we recommend doing it once per year and is available as a stand-alone treatment or at a discounted price with one of our service plans. Note: This treatment does not completely eliminate pests coming from outside the home and it is recommending to perform it in conjunction with one of our monthly, bi-monthly or quarterly service plans.
---
ADDITIONAL SERVICES ARE AVAILABLE
On top of our Service Plans that you read about above, we have several other Additional Services that caters to any specific pest problem.
Spring and Summer Yard Granulation
Monthly Mosquito Control Program
Cockroach Clean Outs
Brown Recluse Clean Outs
Bed Bugs
and more!
These are just to name a few.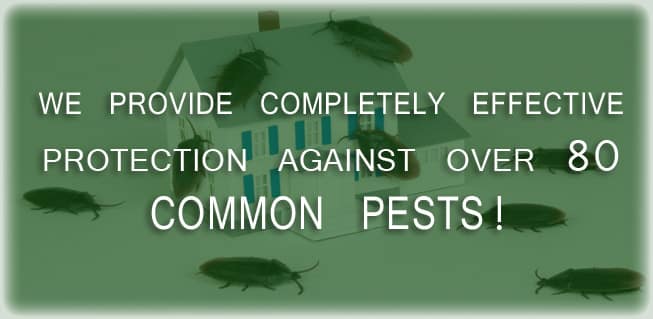 Though most of these bugs are covered under our General Coverage Services, there are a few that can be taken care of through our Extended Coverage Plans or through one of our Separate Pest Management Programs. We'd love to talk to you more!
If you do find signs of a pest infestation in your home or business, contact us right away! We will be able to inspect your property, confirm the species, and recommend a course of action to keep you and those around you safe and healthy.
---
RESIDENTIAL GUARANTEE
Our pest services are 100% guaranteed to effectively remove your pest problems! At any time, if you are not completely satisfied with the results of your regularly scheduled service, we provide free call backs* in between your scheduled services until the job is done right!
We are sure that we are providing the best, top notch service around, but if, for some reason, pests are still causing you problems after we have serviced your location, we will make it right at no charge* to you!
*The pests covered in the free call backs are the  'covered pests' listed in your Service Agreement.